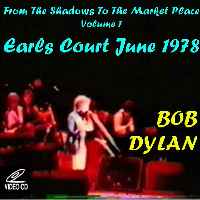 FROM THE SHADOWS TO THE MARKETPLACE VOL 1 [VCD]

no label 1CDR

Earls Court (London, UK); June 15-20, 1978

Tracklist: Mr. Tambourine Man, Love Minus Zero, Ballad Of A Thin Man, Maggie's Farm, I Don't Believe You, Like A Rolling Stone, Going Going Gone, One Of Us Must Know, You're A Big Girl Now, Blowin' In The Wind, I Want You, Seņor, Masters Of War, Just Like A Woman, All Along The Watchtower, All I Really Want To Do, Don't Think Twice, It's Alright Ma (I'm Only Bleeding), Forever Young, Times They Are A-Changin'

NOTE: This disc is compiled from 8mm audience films of Dylan's June 1978 Earl's Court stand. Because the film cartridges ran less than four minutes each, many songs are incomplete. The track order simulates that of the standard tour playlist, rather than being organized by individual performance. The audio soundtrack, taken from other recordings, has typically been slightly slowed down to synchronize with the video.