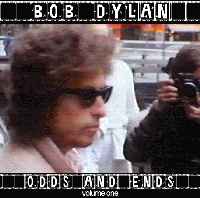 ODDS AND ENDS VOLUME 1 [VCD]

no label 1CDR

(1) Westfalenhalle (Dortmund, West Germany); June 26, 1978
(2) Freilichttheatre (Bad Segeberg, West Germany); July 14, 1981
(3) Rich Stadium (Buffalo, NY); July 4, 1986
(4) "America's Reunion On The Mall" (Washington, DC); January 17, 1993
(5) Rock & Roll Hall Of Fame (Cleveland, OH); September 2, 1995
(6) Frank Sinatra Tribute (Los Angeles, CA); November 19, 1995
(7) promotional video
(8) Grammy Awards (New York, NY); February 25, 1998
(9) Scandanavium (Gothenburg, Sweden); June 10, 1998
(10) promotional video (from Wonder Boys DVD)
(11) Krogshavn (Langesund, Norway); June 28, 2001
(12) King's Dock (Liverpool, UK); July 12, 2001
(13) Grammy Awards (Los Angeles, CA); February 27, 2002

Tracklist: (1) Baby Stop Crying (newsclip excerpt w/voiceover)
(2) Like A Rolling Stone (newsclip, last verse)
(3) One Too Many Mornings
(4) Chimes Of Freedom
(5) All Along The Watchtower; Forever Young (w/Bruce Springsteen)
(6) Restless Farewell
(7) Not Dark Yet
(8) Love Sick
(9) Born In Time (amateur/audience video)
(10) Things Have Changed
(11) unidentified content
(12) Visions Of Johanna (amateur/audience video)
(13) Cry A While

NOTE: The standard cover slips for this disc imperfectly identify the sources for several tracks. (3) is not from the 1986 Farm Aid concert, where Dylan appeared via satellite during his Buffalo concert, but from an unaired section of the satellite video feed before his actual Farm Aid performance. (4) is not from the 1993 Clinton inauguration, but from a preinaugural event in Washington a few days earlier. (8) reportedly excises the "Soy Bomb" incursion from Dylan's Grammy performance, and is presumably taken from a timeshifted rebroadcast rather than the live broadcast of the awards ceremonies. (1) and (2) were reported only as German performances for the respective years; the specific attributions here are inferred from Dundas' listings of professionally shot video footage.